Take the TransCanada Highway west to Banff.
After you reach the Banff National Park Gates, it will be another 15 minute drive (15km).
Take the second Banff Exit (Norquay).
Turn left at the stop sign (onto Mt Norquay Rd).
Mt Norquay Rd becomes Gopher St.
Turn left at the first set of lights (Wolf St).
You will go through part of the downtown area.
Turn left on Otter St (if you reach Grizzly St, you have gone too far).
Otter St becomes Tunnel Mountain Rd.
Tunnel Mountain Resort is at the top of the hill on your left hand side.
Tunnel Mountain Resort
501 Tunnel Mountain Road
Banff, Alberta
1 (800) 661-1372 (toll free North America)
1 (403) 762-4515 (Local)
Brewster Banff Airport Express
Calgary to Banff from $65
Sit back, relax and enjoy express service from the Calgary International Airport to Banff with Brewster Banff Airport Express. With frequent departures, large viewing windows and a flexible 90-min cancellation policy, there's no better way to access the incredible adventures of Banff National Park.
Save 15% on round-trip bookings
Book Now
Door to door service
Green way to travel
Professional service
Modern, clean transportation
Use promo code bob to receive a 15% discount when booking on their website with drop off at Tunnel Mountain Resort.
Proceed to banffairporter.com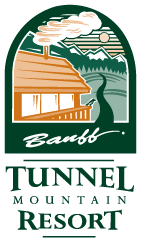 Tunnel Mountain Resort
502 Tunnel Mountain Rd
Banff, Alberta
1 (800) 563-8764
1 (403) 762-4515